A sneak preview of 3 new Société des Bains de Mer establishments
Here are the first images of Amazónico, Maona Monte-Carlo and Club La Vigie.
It may be the middle of winter, but the Société des Bains de Mer (SBM) is getting ready for summer. It promises to be a festive one, with the opening of three new venues: the Amazónico restaurant, in the future Café de Paris, the open-air summer cabaret Maona Monte-Carlo and a new venue at the Pointe de La Vigie: Club La Vigie.
Visuals have just been released, giving us a taste of these establishments that promise to combine luxury and festivities.
L'Amazónico, for a taste of Latin America
One of the flagship projects is, of course, Amazónico: a restaurant which, from this summer, will whisk you off to South America, thanks to a cocktail of flavours straight from Brazil and Peru. The establishment will be located on the roof of the future Café de Paris and will join the list of Amazónico restaurants that have already conquered Madrid, London and Dubai.
As can be seen above, the Amazon forest and jungle inspired decor will invite you to cool down and relax, listening to live performances of Latin-inspired jazz, bossa nova and Cuban music. The Bar & Lounge area will feature the electro-pical sounds of resident DJs. And to finish on a high note: a nightclub reserved for the restaurant's customers, the Speakeasy.
Club La Vigie, for a breathtaking view of the Mediterranean
Next is Club La Vigie, from 2 June 2023. This is when the already famous Pointe de la Vigie will be transformed into a private club from noon to 8 pm. Guests can enjoy an elegant seaside atmosphere and admire the magnificent view of Monaco and the Mediterranean.
Club La Vigie will combine a beach club spirit with Mediterranean food, creative cocktails and, of course, great music. Also not to be missed: the "Love Nests", five bungalows nestled in the pine trees, for a more private moment as a couple or with friends.
The Maona Monte-Carlo, with stars in your eyes
Finally, from the end of June, the Maona Monte-Carlo will welcome guests to a villa-terrace set on the rocks near Monte-Carlo Beach. Named after Maria Callas and Aristotle Onassis, the two celebrities who founded the first Maona club on the Riviera in 1962, the Maona Monte-Carlo will be a unique venue: a summer cabaret under the stars. Live music and Monegasque culinary heritage will also be featured. The Monte-Carlo SBM even reached out to Monegasques and their families, asking for their favourite recipes so they could create a local, gourmet menu, featuring gambas flambéed with pastis, tagliolini with capon, marjoram and lemon and a Peach Melba, as a tribute to chef Auguste Escoffier.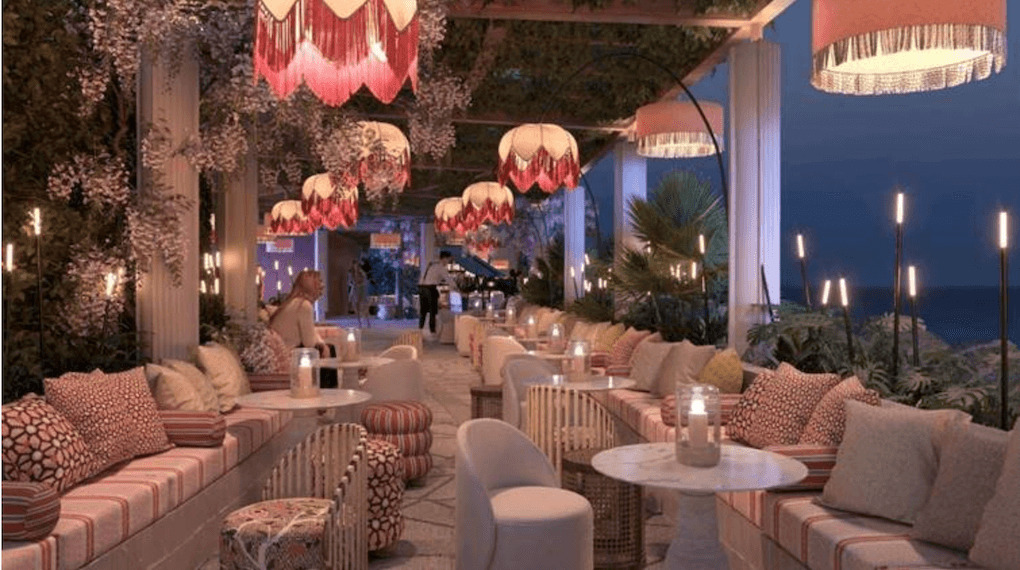 The Bar Sauvage will serve cocktail creations that pay tribute to the different districts of Monaco, but also rare spirits, such as vermouths from the 1950s and 1960s, an exclusive digestif made from Monegasque oranges, or the Negroni Monte-Carlo 1956, the year Prince Rainier III and Grace Kelly were married. Tasty beverages that can be enjoyed to the sound of a pianist, a diva and a DJ who will perform every day from 7 pm to 2 am. An ultra-VIP space with 12 seats will also be set up, called the Tam Tam Room, a reference to the 1935 film Princess Tam Tam, in which a certain Joséphine Baker played the main role.