MonaMove: an open-air connected gym
Monaco Tribune shares three articles with you on how to get some exercise, in the open air, in and around the Principality.
Gyms, group lessons, private coaches…. There are many ways to exercise, provided you have the budget and the time. With the return of the fine weather, why not make the most of the sunshine to exercise outdoors, and for free?
Of course, if someone says "Outdoor Sport in Monaco" the first thing that comes to mind is "MonaMove". This connected platform, inaugurated in 2019 and designed by Sébastien Chabal, offers two spots to work out for free, in a very pleasant setting, with a view of the sea, the Oceanographic Museum and the Rock.
How does it work?
Whether you want to lose weight, tone up, slim down or just stay in shape, these platforms provide the same benefits as a traditional gym, plus the sunshine and minus the cost!
Located in the Fontvieille and Hercule ports, and powered by solar energy, the two stations contain freely accessible sports equipment, which can be used unsupervised, thanks to the information signs on site, or with the help of the MonaMove mobile application, which sets them apart from other free areas, such as the one in Larvotto.
Also completely free, the app not only tells you which station is closest to you – as well as the temperature and humidity there – but also cooks up programmes tailored to your level and your goal for the day.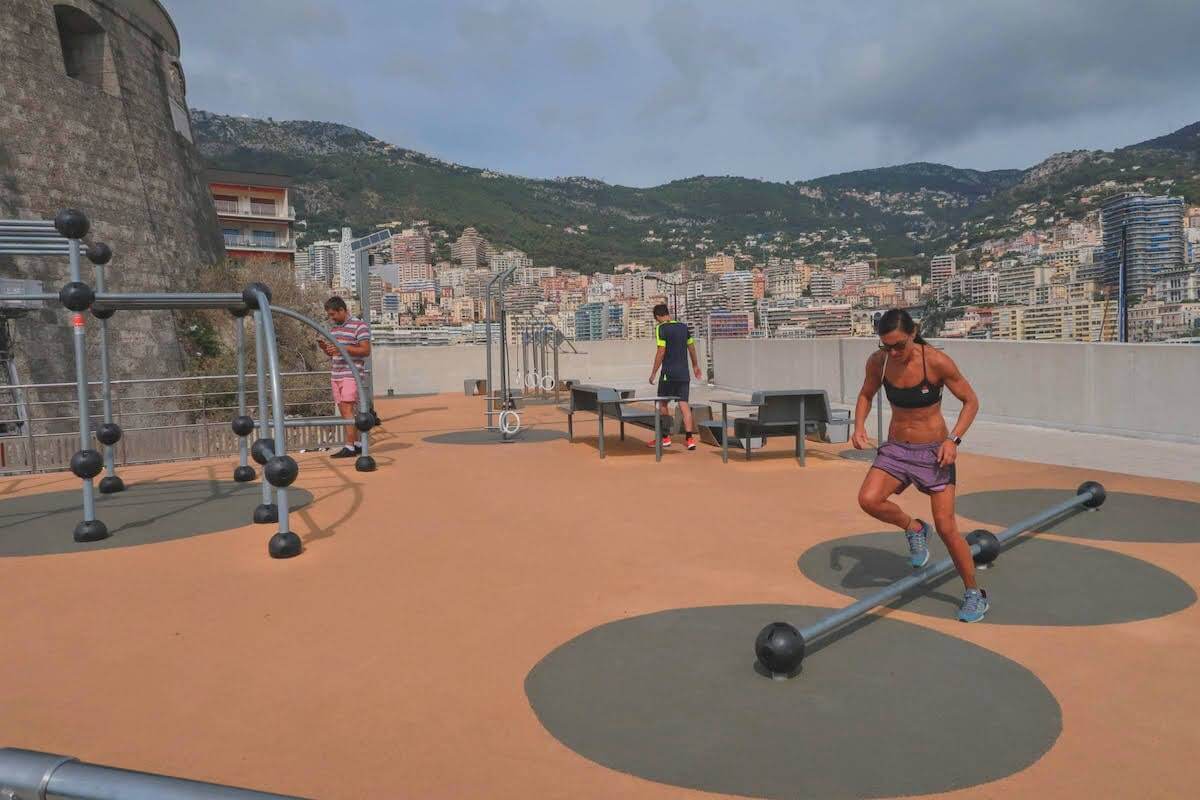 Our opinion
MonaMove is a great way to work out outdoors, with quality equipment and at your own pace, whether it's for a quick session or a longer workout.
Please note that the apparatus is for ages 14 and up, but a word of caution: some exercises can be more difficult than they appear at first. Even if the view takes our mind off the pain, listen to your body to avoid injury and remember to stay well hydrated, especially in hot weather. A drinking water fountain is available, and we advise you to train at the beginning and end of the day when temperatures are cooler.
Finally, remember that both stations have a limited amount of equipment. So, respect for others and friendliness are the order of the day. If the apparatus you were aiming for is in use, why not do some of the warm-up exercises on the app, or go for a little jog along the dike?